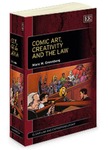 Title
Comic Art, Creativity And The Law
Description
The creation of works of comic art, including graphic novels, comic books, cartoons and comic strips, and political cartoons, is affected, and at times limited, by a diverse array of laws, ranging from copyright law to free speech laws. This book examines how this intersection affects the creative process, and proposes approaches that encourage, rather than limit, that process in the comic art genre. Attention to the role comic art occupies in popular culture, and how the law responds to that role, is also analyzed.
The book examines the impact contract law, copyright law (including termination rights, parody, and ownership of characters), tax law and obscenity law has on the creative process. It considers how these laws enhance and constrain the process of creating comic art by examining the effect their often inconsistent and incoherent application has had on the lives of creators, retailers and readers of comic art. It uniquely explains the disparate results in two key comic book parody cases, the Winter Brothers case and the Air Pirates case and offers an explanation for the seemingly inconsistent results in those cases. Finally, it offers a detailed discussion and analysis of the history and operation of the "work-for-hire" doctrine in copyright law and its affect on comic art creators.

Designed for academics, practitioners, students and fans of comic art, the book offers proposals for changes in those laws that constrain the creative process, and a glimpse into the future of comic art and the law.
Publisher
Edward Elgar Publishing
Keywords
work-for-hire doctrine, comic art, graphic novels, comic books, cartoons, comic strips, political cartoons
Disciplines
Intellectual Property Law
Recommended Citation
Greenberg, Marc H., "Comic Art, Creativity And The Law" (2014). Books and Monographs by GGU Law Authors. 16.
https://digitalcommons.law.ggu.edu/monographs/16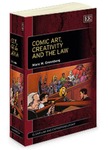 COinS