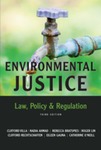 Title
Environmental Justice Law, Policy & Regulation, Third Edition
Description
Author of section in chapter 13: Citizen Enforcement and Common Law Remedies. Section: Respect for Community Narratives of Environmental Injustice: The Dignity Right to Be Heard and Believed.
Environmental Justice: Law, Policy, and Regulation explores theory and practice in this dynamic subject, which fuses environmental law and civil rights enforcement. It covers everything from early concerns over toxic waste in minority communities to environmental justice and the range of environmental threats facing poor, immigrant, and indigenous communities; women, children, and seniors; and other vulnerable populations. This third edition provides extensively updated materials to address environmental justice concerns today, including oil drilling in the Arctic, the Dakota Access Pipeline, drinking water contamination in Flint, and the devastation wrought by Hurricane Maria in Puerto Rico.
Featuring new chapters addressing disaster justice and food justice, this new edition also expands coverage of environmental enforcement, contaminated sites, climate justice, and environmental justice in Indian country, all with an eye towards identifying modern challenges and available tools for the continuing pursuit of environmental justice.
This book is available in the Law Library at: https://library.ggu.edu/record=b1741273~S0
Publisher
Carolina Academic Press
Keywords
environmental justice, indigenous communities
Disciplines
Environmental Law
Recommended Citation
Kang, Helen H., "Environmental Justice Law, Policy & Regulation, Third Edition" (2020). Book Chapters by GGU Law Authors. 54.
https://digitalcommons.law.ggu.edu/book_chapters/54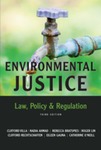 COinS