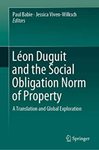 Title
Léon Duguit and the Social Obligation Norm of Property, A Translation and Global Exploration
Description
Translator and author of chapter 10: A Curious Doctrinal Marriage: the Social Function of Property and the Right to the City in Brazil.
This book demonstrates the importance of Léon Duguit for property theory in both the civil and common law world. It translates into English for the first time ever Duguit's seminal lecture on property, the sixth of a series given in 1911 in Buenos Aires. It also collects essays from the leading experts on the social function of property in major civil and common law jurisdictions internationally.
The book explores the importance that the notion of the social function of property has come to have not only in France but in the entire civil law tradition, and also considers the wide – if unattributed and seldom regarded – influence in the common law tradition and theory of property.
Keywords
Léon Duguit, urban law, property norms, social function of property, Brazilian jurisprudence
Disciplines
Comparative and Foreign Law | Environmental Law | State and Local Government Law
Recommended Citation
Crawford, Colin, "Léon Duguit and the Social Obligation Norm of Property, A Translation and Global Exploration" (2019). Book Chapters by GGU Law Authors. 48.
https://digitalcommons.law.ggu.edu/book_chapters/48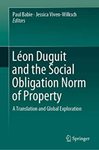 COinS