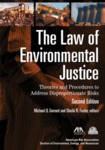 Title
The Law of Environmental Justice: Theories and Procedures to Address Disproportionate Risks, Second Edition
Description
Author of chapter 3: Other Civil Rights Titles.
Environmental justice is the concept that minority and low-income individuals, communities and populations should not be disproportionately exposed to environmental hazards, and that they should share fully in making the decisions that affect their environment. The Law of Environmental Justice comprehensively examines the sources of environmental justice law and how evolving regulations and important court decisions impact projects around the country.
In the years since the first edition published in 1999, many of the initial questions raised about environmental justice have been answered by the courts, most importantly by the U.S. Supreme Court in Alexander v. Sandoval, and the techniques for analyzing environmental justice conditions and impacts have been further developed and refined. Intended for lawyers on all sides of controversial issues, The Law of Environmental Justice is a clearly written, measured resource for those who counsel government agencies, corporations, environmental groups, individuals who have been harmed or are at-risk for exposure, and community or advocacy organizations. The 21 individual chapters, written by many of the leading practitioners and scholars in the field, are divided into three categories: legal theories, legal procedures, and legal objectives. Among the topics covered are federal and state regulations and programs, Native American law, access to information, impact and risk assessment, access to the courts, ethics and evidentiary issues, challenges to permits for new facilities and controlling existing facilities, brownfields, residential and workplace exposure, and tort remedies and litigation strategies.
Publisher
American Bar Association
Keywords
environmental justice, brownfields, minority rights
Disciplines
Civil Rights and Discrimination | Environmental Law
Recommended Citation
Crawford, Colin, "The Law of Environmental Justice: Theories and Procedures to Address Disproportionate Risks, Second Edition" (2008). Book Chapters by GGU Law Authors. 45.
https://digitalcommons.law.ggu.edu/book_chapters/45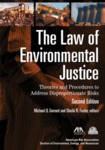 COinS