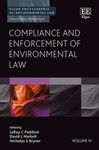 Compliance and Enforcement of Environmental Law
Description
Author of Chapter 13. Enforcement by local governments.
Countries throughout the world have adopted increasingly comprehensive environmental laws over recent years. Even so, immense challenges remain to achieve desired sustainability outcomes. One of the key problems in bridging the gap between legal requirements and sustainability outcomes is deficiencies in compliance and enforcement programs. Compliance and Enforcement of Enviromental Law, one of the constituent volumes in the Elgar Encyclopedia of Environmental Law, brings together leading experts to provide a detailed overview of compliance and enforcement tools. The entries are structured around key topics, including: common law causes of action, writing enforceable rules, monitoring and reporting requirements, administrative enforcement, civil judicial enforcement, assessment of civil penalties, and criminal liability. The book also addresses targeting efforts to maximize the value of limited resources and ways of measuring compliance to help ensure that results are obtained using the relevant tools.
This paper has been withdrawn.