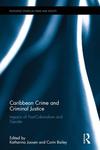 Title
Caribbean Crime and Criminal Justice: Impacts of Post-Colonialism and Gender
Description
Author of chapter 5: Child domestic slavery in Haiti.
This edited volume adds to the existing body of scientific, empirical and theoretical work on crime (victimization), and criminal justice in the Caribbean, with a specific focus on impacts of post-colonialism and gender. To investigate these impacts on a developing Caribbean criminology, the contributions in this volume focus on how impacts of post-colonialism, associated racial stereotypes, and/or gender throughout the Caribbean impact on (a) types of offending, (b) victimization, and (c) criminal justice system responses and policies.
Bringing together a broad range of experts, this book sheds light on key criminological topics in the Caribbean, including victimization, risk factors for offending, subcultures of violence and particularly gendered violence, and the role of motherhood within matrifocal societies. It is essential reading for those engaged with Caribbean - or decolonial - Criminology and those engaged with comparative and international studies in crime and justice more generally.
Publisher
Routledge Publishing
Keywords
comparative criminal justice; caribbean studies;
Disciplines
Comparative and Foreign Law | Juvenile Law
Recommended Citation
Faedi Duramy, Benedetta, "Caribbean Crime and Criminal Justice: Impacts of Post-Colonialism and Gender" (2017). Book Chapters by GGU Law Authors. 32.
https://digitalcommons.law.ggu.edu/book_chapters/32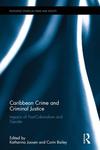 COinS