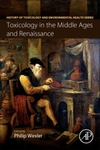 Title
Toxicology in the Middle Ages and Renaissance
Description
Duramy is the author of chapter 11: Catherine La Voisin: Poisons and Magic at the Royal Court of Louis XIV.
Toxicology in the Middle Ages and Renaissance provides an authoritative and fascinating exploration into the use of toxins and poisons in the Middle Ages and Renaissance. Part of the History of Toxicology and Environmental Health series, this volume is a follow-up, chronologically, to the first two volumes which explored toxicology in antiquity.
The book approximately covers the 1100s through the 1600s, delving into different aspects of toxicology, such as the contributions of scientific scholars of the time, sensational poisoners and poisoning cases, as well as myths. Historical figures, such as the Borgias and Catherine de Medici are discussed. Toxicologists, students, medical researchers, and those interested in the history of science will find insightful and relevant material in this volume.
Publisher
Elsevier: Academic Press
Keywords
women and poisons; Catherine La Voison;
Disciplines
Legal History
Recommended Citation
Faedi Duramy, Benedetta, "Toxicology in the Middle Ages and Renaissance" (2017). Book Chapters by GGU Law Authors. 29.
https://digitalcommons.law.ggu.edu/book_chapters/29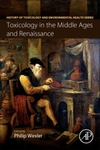 COinS