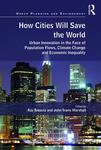 Title
How Cities Will Save the World: Urban Innovation in the Face of Population Flows, Climate Change and Economic Inequality
Description
Author of chapter: "Cities Seeking Justice: Local Government Litigation in the Public Interest."
This book chapter explains that an increasing number of city law offices across the U.S. view themselves as platforms for public interest work rather than mere defense litigation firms. The book is intended for scholarly and non-scholarly audiences alike. The goal of the book is to both record what is happening and inspire city officials going forward.
Cities are frequently viewed as passive participants to state and national efforts to solve the toughest urban problems. But the evidence suggests otherwise. Cities are actively devising innovative policy solutions and they have the potential to do even more. In this volume, the authors examine current threats to communities across the U.S. and the globe. They draw on first-hand experience with, and accounts of, the crises already precipitated by climate change, population shifts, and economic inequality. This volume is distinguished, however, by its central objective of traveling beyond a description of problems and a discussion of their serious implications. Each of the thirteen chapters frame specific recommendations and guidance on the range of core capacities and interventions that 21st Century cities would be prudent to consider in mapping their immediate and future responses to these critical problems. How Cities Will Save the World brings together authors with frontline experience in the fields of city redevelopment, urban infrastructure, healthcare, planning, immigration, historic preservation, and local government administration. They not only offer their ground level view of threats caused by climate change, population shifts, and economic inequality, but they provide solution-driven narratives identifying promising innovations to help cities tackle this century's greatest adversities.
Keywords
urban development; city planning;
Disciplines
State and Local Government Law
Recommended Citation
Morris, Kathleen, "How Cities Will Save the World: Urban Innovation in the Face of Population Flows, Climate Change and Economic Inequality" (2016). Book Chapters by GGU Law Authors. 27.
https://digitalcommons.law.ggu.edu/book_chapters/27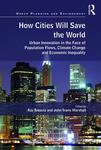 COinS