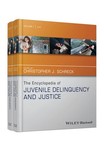 Title
The Encyclopedia of Juvenile Delinquency and Justice
Description
Author of chapter: Juvenile Court Judges.
The Encyclopedia of Juvenile Delinquency and Justice is a compendium of more than 300 contributions written by leading scholars from the fields of criminal justice, justice sciences, social work, and sociology. It covers the latest research, policies, and practices regarding young offenders, the processing of juveniles within the court system, and various approaches to treating and eliminating juvenile crime. The origins and evolution of the juvenile justice system, the leading theories and major theorists in the field, and the empirical support for theories and policies designed to reduce delinquency are all discussed in depth.
Organized thematically, the Encyclopedia is arranged by three key sections. The first section focuses on juvenile delinquents and delinquency, specifically the causes, correlates, and experiences of at-risk youth. The second section provides a comprehensive review of the system developed to address juvenile offending, including the historic origins of juvenile courts and the cases that have shaped the contemporary system. In the final section, authors explore current treatment programs and policy initiatives designed to mitigate and/or prevent juvenile delinquency.
Keywords
juvenile justice;
Recommended Citation
Benedetto Neitz, Michele, "The Encyclopedia of Juvenile Delinquency and Justice" (2017). Book Chapters by GGU Law Authors. 17.
https://digitalcommons.law.ggu.edu/book_chapters/17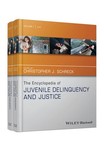 COinS