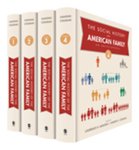 Title
The Social History of the American Family: An Encyclopedia
Description
Author of chapter: Community Property.
The American family has come a long way from the days of the idealized family portrayed in iconic television shows of the 1950s and 1960s. The four volumes of The Social History of the American Family explore the vital role of the family as the fundamental social unit across the span of American history. Experiences of family life shape so much of an individual's development and identity, yet the patterns of family structure, family life, and family transition vary across time, space, and socioeconomic contexts. Both the definition of who or what counts as family and representations of the "ideal" family have changed over time to reflect changing mores, changing living standards and lifestyles, and increased levels of social heterogeneity.
Features:
Approximately 600 articles, richly illustrated with historical photographs and color photos in the digital edition, provide historical context for students.
A collection of primary source documents demonstrate themes across time.
The signed articles, with cross references and Further Readings, are accompanied by a Reader's Guide, Chronology of American Families, Resource Guide, Glossary, and thorough index.
Publisher
Sage Publications, Inc.
Recommended Citation
Faedi Duramy, Benedetta, "The Social History of the American Family: An Encyclopedia" (2014). Book Chapters by GGU Law Authors. 15.
https://digitalcommons.law.ggu.edu/book_chapters/15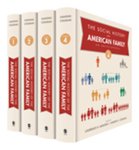 COinS