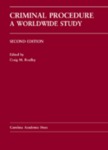 Title
Criminal Procedure: A Worldwide Study, 2nd ed.
Description
Author of chapter: Italy.
This book presents, for the first time, a comprehensive comparison of criminal procedure law — whether arising from rules or court decisions — of countries around the world. An overview chapter by editor Craig Bradley is followed by thirteen chapters on a variety of countries, written either by a leading academic from that country or an American with substantial expertise in that country. One focus of the book is, of course, the rules of criminal procedure, beginning with the first encounter of police with a subject, continuing through the trial, and finishing with the post-trial review process. A less obvious goal of the book — and one that is missing in most such comparative discussions — is to present what really goes on in each country, regardless of what the formal rules may provide. The combination of authors who are intimately familiar with the procedures of each country, and an editor from outside that country who continually presses the authors to disclose the reality behind the rules, is one of the unique features of the book.
Rule enforcement is a particular emphasis of the book. Other topics presented include those of interest to police — the requirements for both search warrants and warrantless searches; interrogation rules and identification procedures, including lineups; obtainment of blood samples, etc. — as well as court procedures, including the right to council, pretrial procedures, the trial itself, and the nature and availability of appeals. Criminal Procedure presents a thorough description of comparative criminal law both as written and as practiced.
Publisher
Carolina Academic Press
Keywords
criminal law, comparative law, international criminal law
Disciplines
Comparative and Foreign Law | Criminal Law
Recommended Citation
Van Cleave, Rachel A., "Criminal Procedure: A Worldwide Study, 2nd ed." (2007). Book Chapters by GGU Law Authors. 11.
https://digitalcommons.law.ggu.edu/book_chapters/11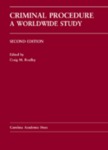 COinS